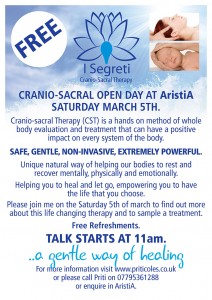 CRANIO-SACRAL OPEN DAY AT AristiA • SATURDAY MARCH 5TH
Cranio-Sacral Therapy (CST) is hands on method of whole body evaluation and treatment that can have a positive impact on every system of the body.
Safe, Gentle, Non-Invasive, Extremely Powerful.
Unique natural way of helping our bodies to rest and recover mentally, physically and emotionally. Helping you to heal and let go, empowering you to have the life that you choose.
Please join in me on the Saturday 5th of March to find out more about this life changing therapy and to sample a treatment.
Free Refreshments.
TALK STARTS AT 11AM.
For more information visit www.priticoles.co.uk or please call Priti on 07795361288 or enquire in AristiA.
---